If you've looked into mounting options for your Osmo, you've probably noticed that there aren't many options and often times they're overpriced. The great thing with gopro cameras is all the different mounts available, there's a mount for practically anything you want to do. I'm going to show you how to use gopro mounts with DJI Osmo. You'll be able to reuse the mounts you already have without having to buy new DJI ones to do the exact same job and best of all, it doesn't break the bank.
Things you'll need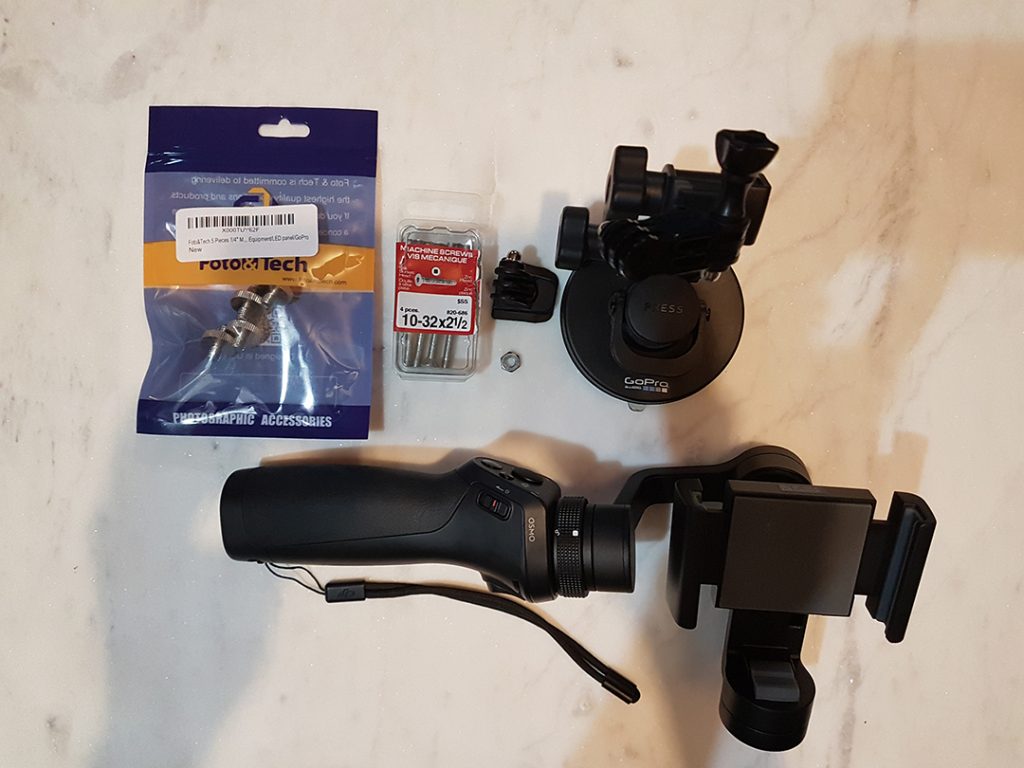 Steps
You'll notice that the mount will have 3 tabs and your tripod adapter will have 3 tabs. Insert the tripod adapter into the gopro mount so there's an end nut on each end. Take the gopro tripod adapter and pull out the end nut. You can throw it away because you won't be needing it anymore.

The normal gopro mounting screw will be too short now so this is where you use the 10-32 Machines screw. Thread the nut onto the screw all the way up and then insert the screw into the open end and screw it into the other end nut. Now turn the nut until it touches the mount. This is important because it's what will tighten and keep the whole thing together.

Take the ¼ male to ¼ male adapter and screw one end into the bottom of the gopro tripod adapter and then screw the other end into the side mount of your osmo

Gopro Mounts With DJI Osmo
That's it, that's all. Using gopro mounts with DJI Osmo will open up new options for your film making. Some mounts I have used include the gopro selfie stick to give you a jib crane shot. If you don't know what that is, it usually refers to a high angle shot while moving the camera. I also have a gopro suction cup mount and I wasn't about to buy an expensive DJI one if I could just make this gopro one work.
Those are just some examples of what you can do now. You're only limited by your creativity. I hope this helped you save some money and opens up new options in your film making. Let me know which gopro mounts are your favorite in the comments below.