There are many different beaches on Santorini. Some are white, many are black, but there's only one red beach. You've probably looked into red beach on sites like Tripadvisor and read the hundreds of reviews saying it's a must see. My opinion of red beach goes across the grain. The only thing worth seeing here is the doors of red beach.
Why I Didn't Like The Red Beach
Do you like trying to find parking in a small crowded parking lot? Do you like walking 15 minutes over loose rocks that could easily lead to a rolled ankle? How about trying to find a place to lay your beach towel on this narrow strip of beach? If you answered yes, then you've found your perfect little spot on Santorini.
I honestly wouldn't have even came here but we were in the south and had no other sights we wanted to see. The sand on the beach isn't even red, it's black with some red in it. The rocks walking to the beach are red though and the cliffs overlooking the beach are also red, just not the sand. Once I stepped foot on the sand I was walking on a spongy material, it looks like chopped and dried bits of sea grass. There was so much of it that it was spongy walking on the first half of the beach.
I'm going to focus on the positive though and write about what I did like, the doors of red beach.
The Doors Of Red Beach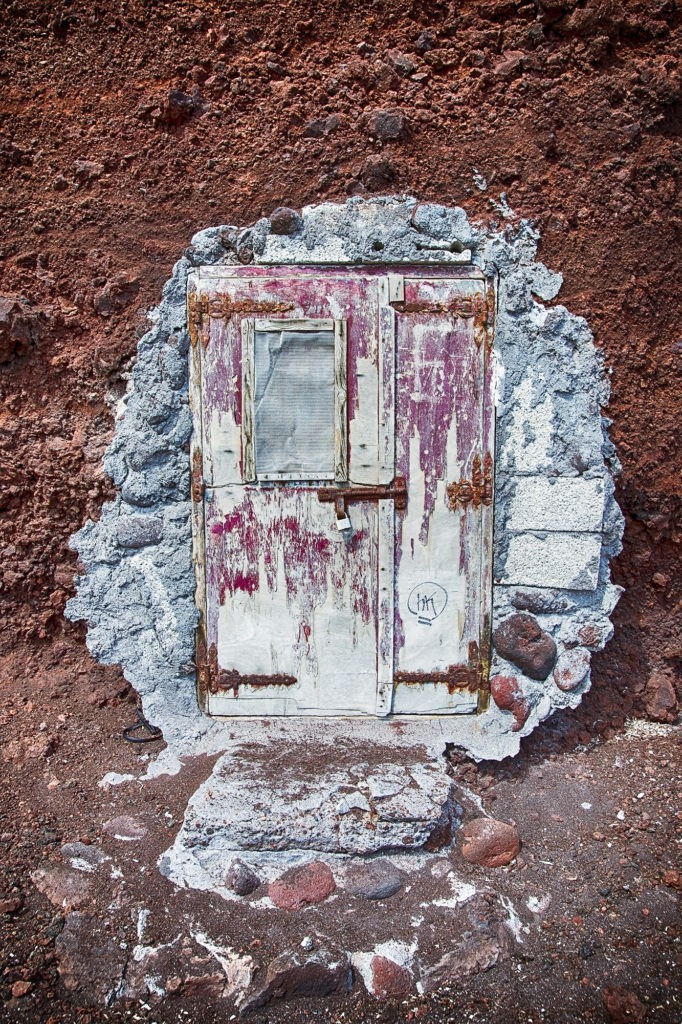 Why are there doors in the cliffs? What are the doors of red beach used for? They are a gateway to another world. A world filled with magic, mythical beasts, and talking animals, a world known as Narnia. At least that's what the captain of our sunset cruise told us. In reality, the doors of red beach are where fisherman store their nets. Not as great a story to tell as the Narnia one though. They are still interesting to see and photograph though and you can make up your own stories of where they lead to.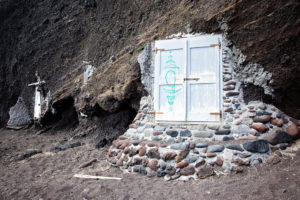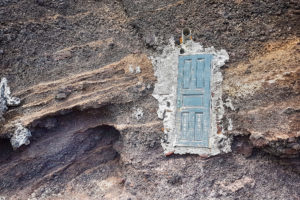 Red Beach By Sea
There are two main ways of getting to the red beach. Most of the catamaran or cruise excursions on Santorini will stop here. Your stay won't be long though and unless you swim to the beach, you won't be seeing the doors up close this way. It's nice though because you won't risk rolling your ankle and it's not the only stop.
If you were so inclined to get onto the beach but didn't want to walk you could take a water taxi. You can find your boat ride there from Akrotiri, Perissa or Kamari.
Red Beach By Land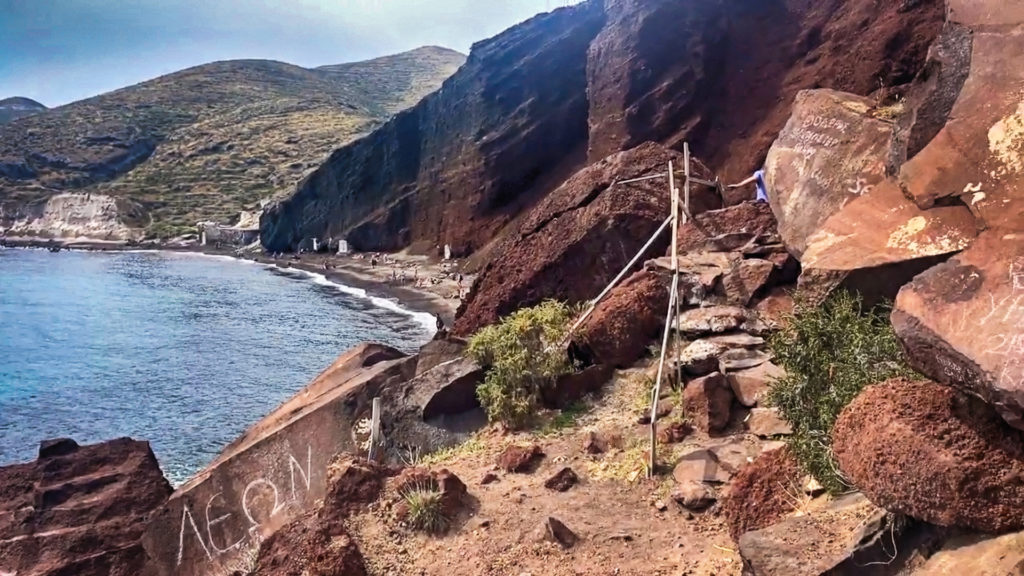 You can take the bus from Fira to Akrotiri. We chose to drive and the parking lot gets very packed. It took me a while to finally found a spot using the same tactic I use at the grocery store. Slowly driving behind people walking back to their car and then quickly signaling in.
Once you find parking you have to walk. The path is pretty much rock filled and then you get to this point pictured above. Sometimes there's a sign saying it's closed because of potential rock slides or falling rocks. Is it worth seeing the doors of red beach? Only if it doesn't involve risking your life. There were no signs there that day so we walked over this rock pile and held on the home made looking hand rail for support.
There are some trucks that sell fresh produce out of the back of their truck. We bought some strawberries for 3 Euros, I handed him a 5 and he gave me back one. I'm still trying to decide if he purposely ripped me off or he just wasn't paying attention. Speaking of paying attention, if we had, we would have noticed some white fuzz growing on the strawberries. It was a short quick stop and we were on the road again.
Have you seen the doors of red beach for yourself? Tell me what you thought about them in the comments below.