The great thing about living in southern Alberta is being so close to the mountains. Many of the national parks are about an hour drive away from home. This was my first time ever being in Waterton lakes national park, I probably wouldn't have come here if it weren't for my younger cousin's wedding. That would have been a mistake because Waterton lakes is a beautiful place to be for the nature lover and hiker. There's plenty of activities here including golf, riding horses, taking a boat tour, and of course hiking one of the many trails Waterton has to offer.
Waterton Lakes National Park
Waterton is a beautiful town surrounded by mountains and crystal clear lakes. It's located in the southwestern portion of Alberta right next to Glacier national park in Montana, USA. It's about a 3 hour drive from Calgary which makes it further than Banff but I found Waterton lakes national park to have less tourists than Banff.
Breakfast to Start The Day
I was in Waterton for my younger cousin's wedding, and what a night that was. Starting the day off with a massive hangover is not what I call starting the day off right. My first goal was to find breakfast, a late breakfast. The town of Waterton is a very small place and everything is within walking distance. I set off to explore the town and get breakfast and stumbled upon a waffle place. Waffleton, what a clever name for a waffle place in Waterton.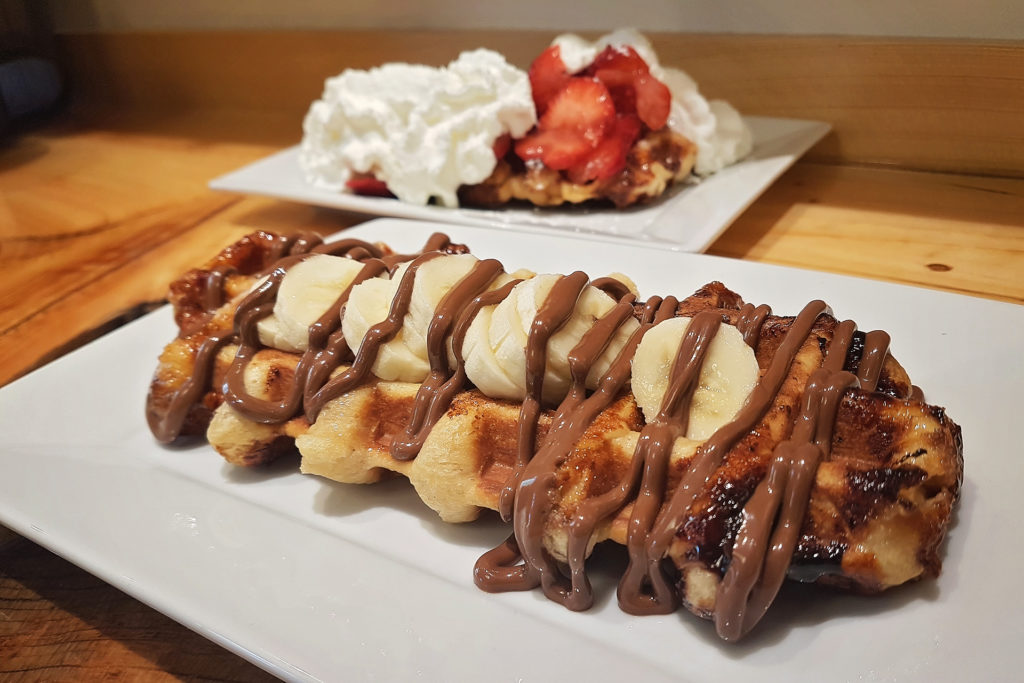 I'm not even going to lie to you, this was probably the best waffle I've ever eaten. It was crisp but melts in your mouth. The waffle I ordered was a Nutella and Banana waffle. I'm going to go against the grain here and say I'm not a fan of Nutella yet this waffle had just the right amount, and wow! I'm not even ashamed to tell you I inhaled that waffle and thought about ordering 4 more. It's just that great.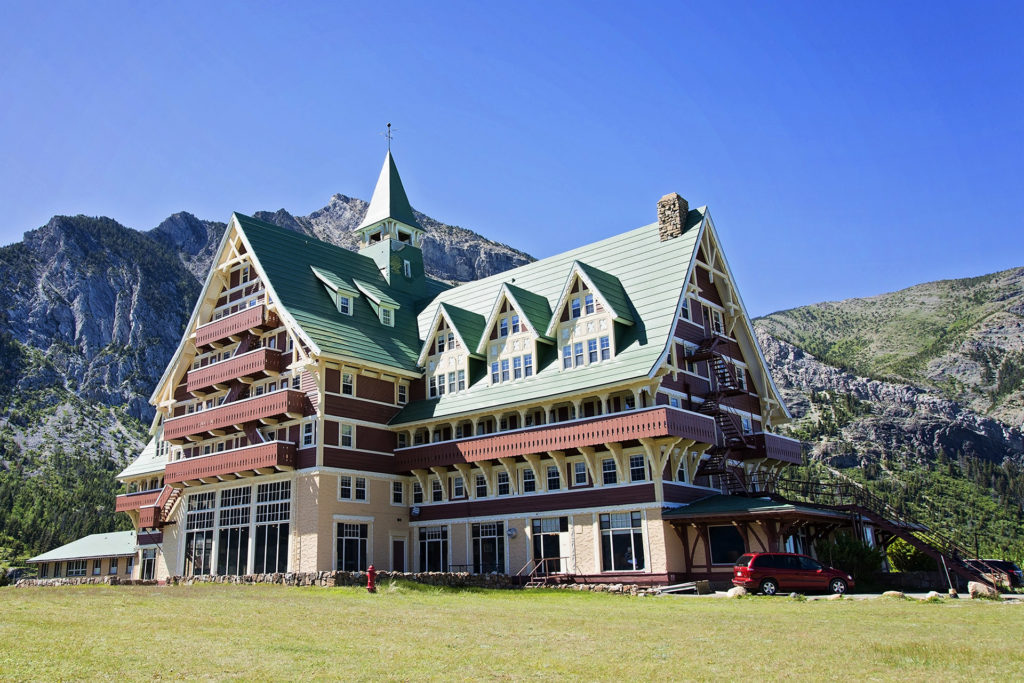 This hotel was designated a national historic site of Canada in 1992. It stands on a bluff overlooking the town of Waterton. Practically anywhere in Waterton you can see the hotel.
On the backside of the hotel you have a great view of the lake and the town. I spent most of my time here just taking long exposure photographs of the lake. It's truly beautiful. The problem is it gets very windy up here. Just like my problem in Amsterdam, I started to get cold and as a result I decided to call it quits and explore some more.
Driftwood Beach
Make sure you stop at Driftwood beach which is a 2 minute drive from the Prince of Wales Hotel.
Unfortunately the time of the boat tours didn't coincide with the free time I had. I didn't get to do this tour but I did speak with the tour company and found out all about it.
The boat tour lasts 2 hours and 15 minutes roughly and is $49 CAD for an adult. During the tour you'll see some spectacular mountain scenery. Waterfalls, snow capped mountains and even the US border are just some of the things you can expect to see.
The cool thing about the boat tours is you'll stop at Goat Haunt, which is a USA port of entry. So if you're planning on staying here for longer than 30 minutes, you better bring your passport. It's a class B port of entry, meaning only Canadian and USA citizen can enter here.
Goat haunt is largely unspoiled wilderness, which means there aren't very many amenities in the area. If you love hiking though, then this place is for you. Many of the hiking trails here connect Canada and USA, and one of them even goes down to the Mexico and USA border. This hiking trail is called the Continental Divide Trail. The most popular hiking trail though is Kootenai Lakes which is only 4km from the ranger station.
Sandwich in a Pizza Place
With a long drive ahead of me and my hangover finally fading, it was time for dinner. Back in the town of Waterton, I decided on a pizza place called simply enough, Pizza of Waterton.It's a great place to stop for a beer after a long hike.
The staff is very knowledgeable and friendly. Our waiter even gave me information about a waterfall called Cameron falls. If the conditions are just right, after a heavy rain, the argolite sediment bleeds into the water and creates a pink waterfall. Look it up, but you have to be lucky to capture the phenomenon yourself.
Funny enough I didn't even order a pizza. Instead I got an apple and brie chichen sandwich. Not my typical hangover food, but it sure did the job. It was delicious. Although I didn't try the pizza, I saw the waiter bringing it to another table. It was freshly made and had a decent amount of toppings.
With a long 3 hour drive ahead of me and my 24 hour trip coming to an end, I decided to head back for Calgary after eating here. What a shame though because I missed a lot of the great things Waterton Lakes national park has to offer. Will definitely need to come back here for another 24 hour trip this summer.
Have you ever been to Waterton? Let me know your favorite thing to do in the comments below.