The beautiful building that almost never was. Construction on this building was halted during the 2008 Iceland financial crisis. It would have been a shame it was never completed. On my first day in Reykjavik, my first task was photographing Harpa. I found myself coming back time and again at all different times of the day just to see it in different light. I was simply obsessed with this building.
Photographing Harpa From The Inside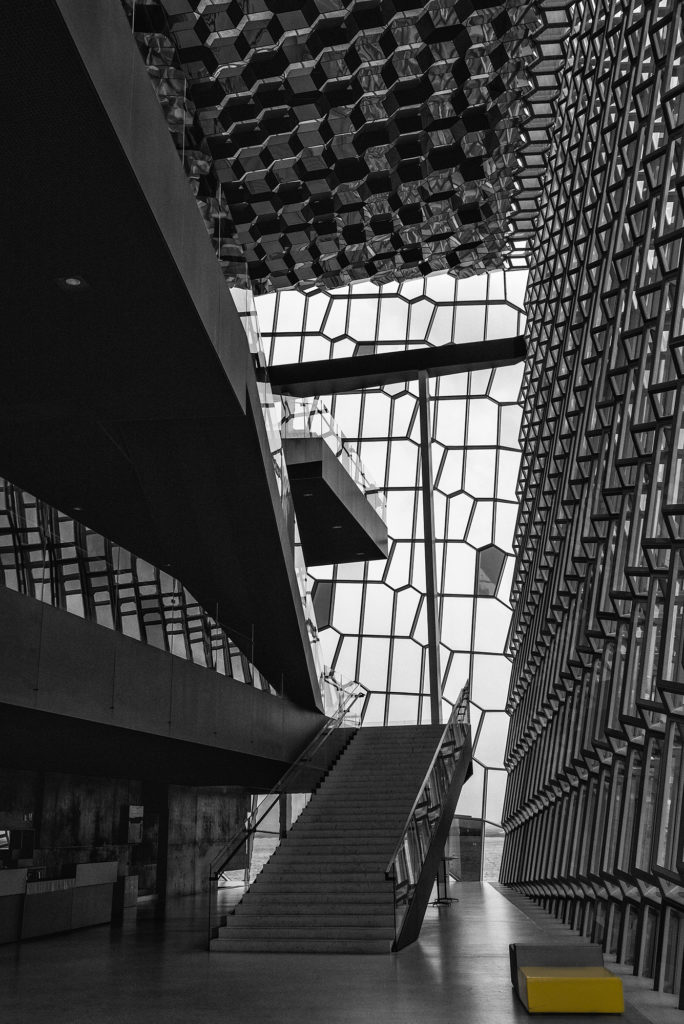 This beautiful building is constructed with glass and steel in the most beautiful geometric shapes. The way the glass just lets all the natural light in will guarantee you will get great photos. I suggest making use of that natural light and photographing the inside during the day.
Don't be afraid to zoom in on just the windows. Get in close and take photos from different angles. You can't go wrong. Photographing Harpa from the inside is less about the technical side and more about making art. Some of my photos I stood right up against the wall and pointed my camera straight up. Explore the building and view it from all angles. The roof and walls change shapes depending on your viewing angle.
Photographing Harpa From The Outside
Every night Harpa puts on a spectacular light show. Each pane of glass is lit up in different colors at different times creating a mesmerizing pattern of light. Photographing Harpa at night can be a bit tricky because of this light show.
To start off on the right foot, you need to come at blue hour. Just as the sun dips below the horizon but the residual indirect light is still there casting a blue hue. In summer time this is difficult because of the midnight sun.
The next thing you're going to need is a tripod because you will be taking long exposures. The long exposures are necessary because of the light show I discussed above. If you take a single quick shot then only a few panes of glass will be lit up. Set your exposure time to at least 1 second and adjust the aperture accordingly. Since the lights consist of yellows and reds, no two photos are going to be the same. One pane of glass might be red in one minute and yellow in the next.
I hope you enjoyed viewing my photos of such a beautiful building and I hope my tips have helped you out. If you have any tips yourself on photographing Harpa, feel free to share them below.