There are 2 things Santorini is known for, stark white buildings and beautiful sunsets. Once you see a Santorini Sunset, you'll never forget it. As the sun nears the horizon, it bathes everything in a golden light. The countless sparkles reflecting off the water is enough to take your breath away.
Oia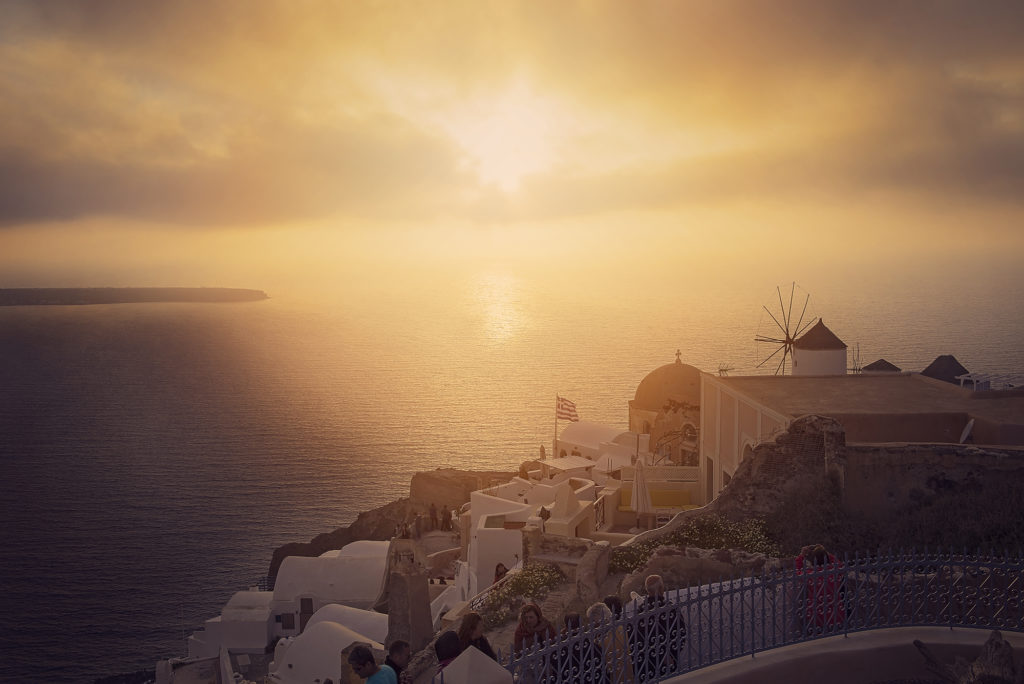 On land, Oia has some of the best views for the sunset. You can literally go anywhere here and enjoy the beautiful sunset, be warned though, it gets crowded. The streets are filled shoulder to shoulder with tourists all trying to get a glimpse of the beautiful Santorini sunset.
The ruins of Oia castle are the busiest spot to watch the sunset. Tourists arrive hours before sunset to claim their spot and stand under the hot sun just to protect it. Every sunset I enjoyed at Oia, I would look over towards the castle and just marvel at the crowd gathered there. It's like sardines packed into a can, people can hardly move. I wouldn't even consider setting up a tripod here, just in case someone bumps into it and ruins your long exposure or worse.
My favorite spots to watch the sunset in Oia is on any of the countless rooftop restaurants. Don't be the jerk barging up there to try and get photos without ordering something, they are businesses trying to earn a living. The great thing about watching from a restaurant is it's not crowded, you can look to the street below and see the crowds and be thankful you're not down there. The restaurants also have blankets in case you or your date is cold. Something to consider is after the sunet, those crowds take a bit to disperse and a moving crowd is worse than a stationary crowd. I tried to time it so that I would be having dessert at that moment.
Fira
Many people prefer to head to Oia for their Santorini sunset. That means it's not as crowded here, don't get me wrong it still gets busy though. There are plenty of restaurants here all perfectly facing the sunset so you can take your pick. My favorite spot in Fira though was just on the street, right in front of the Orthodox cathedral. There are plenty of streets with almost unobstructed views because the restaurants are down some steps.
One thing I noticed from Fira is the sunset is over the islands/volcanos, whereas in Oia the sun sets over open water.
Santorini Sunset Cruise
The best Santorini sunset you will ever see, at least that's what the salesman told us when booking our cruise. You know what? That salesman wasn't lying, in fact he may have even undersold it. It stimulates every one of your senses. From the scent of the salty sea air, the sound of the waves hitting the boat, even the colors here were more pronounced. It's something you need to experience at least once. Hands down, the best spot to watch. I didn't even pull out my DSLR, I wanted to just experience the moment. I did manage to pull my cell phone out quickly to take a quick snap though. If you want more information, you can check out my post about sunset cruises.
There are plenty of sunset cruises being offered all for different prices. Some are basic, some include food, and some are private. Make sure you ask around for a reputable one, as prices vary. We took a catamaran which is supposed to be stable. Supposed to be is the keyword though. Some poor girl on  our cruise didn't have her sea legs and got sick. We had a small group of no more than 10 people and we all got to know each other over a meal the crew prepared for us.
Where ever you decide to watch your Santorini sunset, it will be unforgettable and I'm sure you'll enjoy it. Let me know in the comments where your favorite spot is to watch from. If you need a recommendation for a sunset cruise, feel free to ask and I'll let you know the company I used.