After a flight delay from Athens due to our plane leaking oil, we finally landed in Amsterdam. With less than 24 hours here now because of the delay, we really had to make use of our time to explore Amsterdam. I'll admit all I knew about Amsterdam at this point was the red light district, it has a lot of canals, and it has a cool sign somewhere downtown. Game on, let's see how much of Amsterdam I can see in 24 hours.
Getting to Downtown Amsterdam
You would think that with such a short time here, we would have taken a taxi right to our hotel and be done with it. We decided to try the train which our friends told us was a quick and cheap way to downtown and conveniently enough the train station is connected to the airport so why not?
The train is quick and cheap, I'll give it that. What my friends didn't tell me was that once you got downtown it was a bit confusing to see which train you had to get onto from centraal station. That wasn't even the worst part, worst case I had google maps on my phone so I can just use that or ask someone which train to take. The worst part was being on the trains with suitcases. The seating area is fine but it doesn't have enough room for you luggage so you would have to leave it in the aisle. It was pretty late and the train was busy so every stop I would have to move my luggage to let people through.
After the trains and a short walk in the rain to our hotel I was pretty hungry at this point. I wasn't sure if I was more tired or hungry though but hunger has a funny way of making you question everything you thought you knew about yourself. Back out into the cold rainy night we went.
Tunes Bar
Luckily we found a bar not far from our hotel. Tunes bar, the name of it reminded me of a country western bar for some reason. I couldn't have been more wrong. It's an upscale and classy looking lounge.
Famous for having over 50 different types of gin and tonic and cocktails inspired from all over the world. I figured they would have a Caesar so I tried to order one. If you're not familiar with a Caesar it's almost like a Canadian bloody Mary but way better. It didn't matter anyways because they've never heard of it. To make matters worse they told us that the kitchen was closed for the night. He did give me wasabi nuts and stayed on top of it every time my bowl got empty. I downed my two Vespers and retired back at the hotel for the night.
I Amsterdam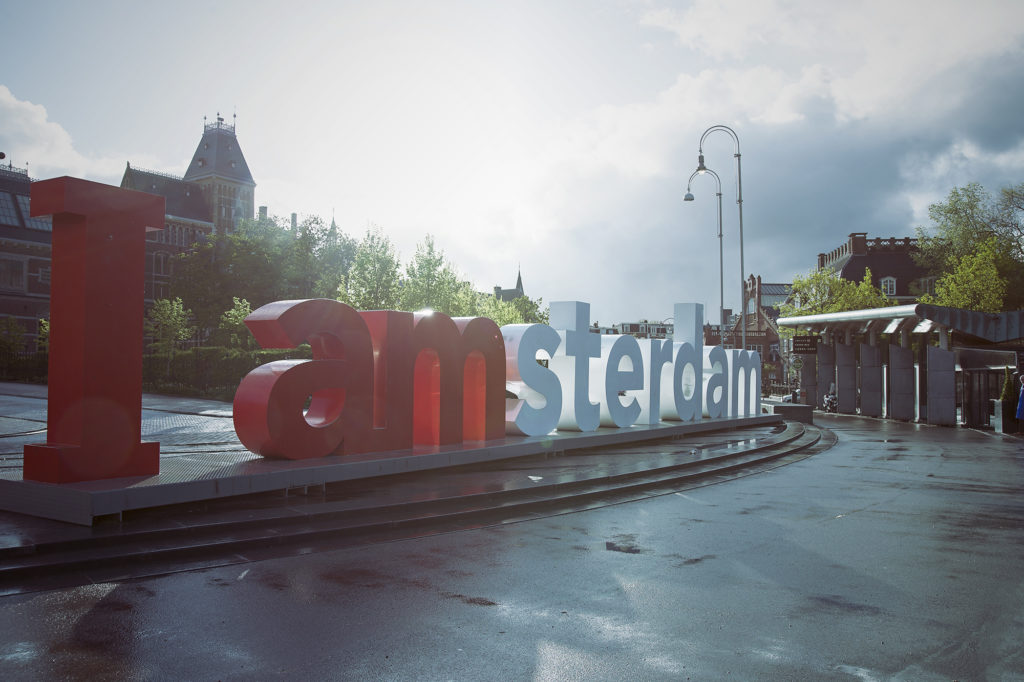 Another cold and rainy day in Amsterdam. I'm from Canada so I'm well acquainted with the cold. For some reason I was really cold in Amsterdam and coming from Greece, I didn't have warm clothes packed. Luckily again the I Amsterdam sign was 2 blocks away from the hotel so we headed out at first light.
If you've seen any photos of Amsterdam, you've probably seen the I Amsterdam sign. It's iconic and of course you would want a picture to show all your friends. Get here early or else there will be people crawling on every single one of those letters, making it difficult to get a good photo. There's a few museums here to, including the Van Gogh and the Rijksmuseum. They would have been cool to check out but they weren't open yet so off we went to the next stop.
Anne Frank and Rembrandt
I knew the Anne Frank house would be busy, but I didn't care. Maybe because of The Fault in Our Stars, I just knew I had to see it; even if we didn't go in. Pre purchase your tickets because it gets busy, the lineup to get in was down the block. I stared at the building from the outside and wished we had more time in Amsterdam.
Right across the street is Westerkerk church. It looked like an interesting structure but it intrigued me because the cab driver told me earlier that it's where Rembrandt is buried. I started photography doing portraits and one of the first lighting setups I learned was Rembrandt lighting. Rembrandt painted one side of the face lighter than the other. On the shadow side, right under the eye there would be a triangle of light. We use Rembrandt's painting style to light our models in the studio sometimes. Seeing where he was buried was an interesting and unexpected surprise.
Breaking point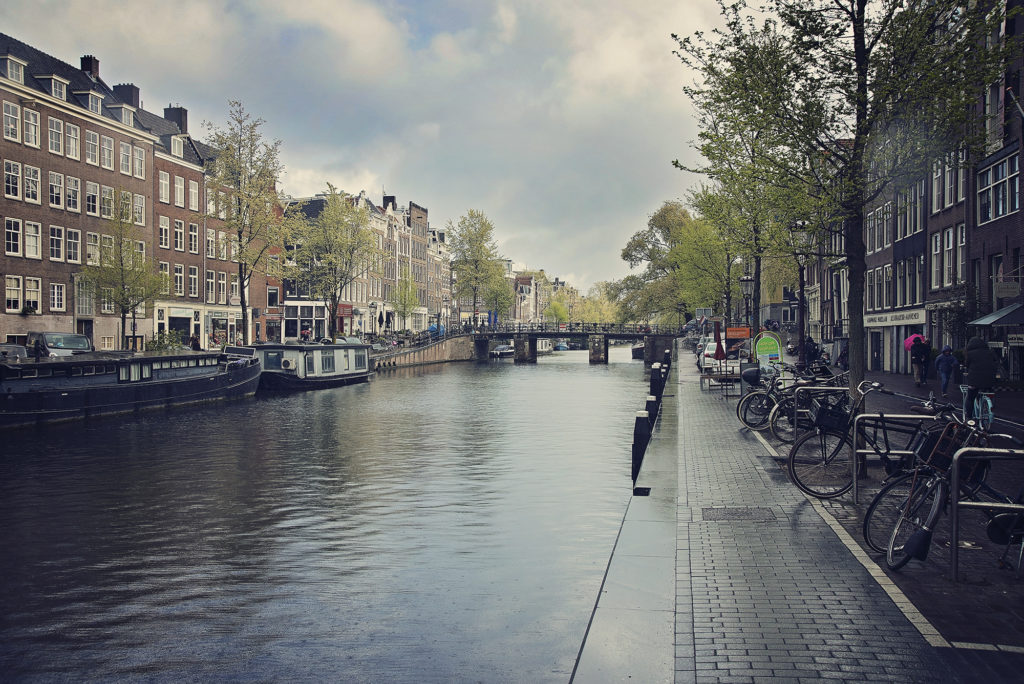 After taking a quick photo of the Canal in front of Anne Frank house, I had enough. I was done. The cold and the rain broke my will to explore further and I threw in the towel. Time to head to the airport and wait out the rest of the time till our flight home. Just a couple more train rides and I would be in the warmth of the airport.
What kind of cool things did I miss out on in Amsterdam? Let me know in the comments below.